Rocket Grunt

Posts: 91
Joined: Fri Oct 07, 2011 6:02 am
Favourite Pokemon: Charizard
PokeLympics PvP Tournament
Intro
Are you prepared for one of the greatest PvP Tourney in PI history? Your skills, strategies, endurance & mind will be squeezed to the limit.
The best of the best in PvP will be revealed in this 3 Events Pokelympics Tournament.
Rules:
1.
6 Pokemons in line up. Legendary pokes are allowed, but only 1 special legy per lineup. Breed Legendary pokes must only be up to +10 and other pokes up to +40.
2.
NO status moves. No moves that have more than 50% chance of making pokemon asleep/paralyzed. No consumables.
3.
Line ups will be registered & cant be change when registration is closed & throughout the tournament.
4.
You should not fix matches with other players. you will be Dq when found.
5.
Rematches will not be held, unless there was an error which happened within the game. If an error occurs, don't run & heal. Continue with the remaining pokes & must use same poke before the error occurs.
6.
Only 2 returns allowed, even if multiple errors occurs during battle, each players cant use more than 2 returns in that particular match.
All participants is required to check there own return usage as well as their opponents, violation will be considered as lost.
7.
3 Event Battle system
Event 1: Qualifiers - Free for all
To qualify for the next event, participating players needs to get 1 win. They can battle anyone in the Tourney to get 1 win & will stop doing PvP after.
Only players with a lose/s can challenge a player who have already lost from previous match/matches. Unless there's no more other players to challenge.
The 1 player with no win will be eliminated.
Event 2: Double round robin - Play Offs
Players will battle twice per participants, then there will be rankings after. In the event of ties, it will be wins over the other, else 1 more match.
Top 4 will proceed to the 3rd event, the rest is eliminated.
Event 3: Reseeding system - Semis / Finals
From the top 4 of the 2nd event, the fixtures will be as follows. 1st Vs 4th, 2nd Vs 3rd. Then W Vs W for the Championship & semifinalist, L Vs L for the 3rd & 4th place.
All matches will be best of 3 for the 3rd event.
All matches results must be posted here.

8. Prizes : The Champion will get 500 Honor Points, 2nd will get 200, & 3rd will get 100 honor points.
9.
To register, you must agree & follow all the rules stated above then fill this form & post here;
PI IGN:
Pokemon 1: Shiny Garchomp / Garchomp +40 (example, no lvl requirements)
2:
3:
4:
5:
6:
10.
The tourney will start when we get at-least
12
participating players.
11.
Please don't spam this thread, it will be for the tourney related only.
For questions & clarifications, please go to chat or post in my profile.
Prepare your army for battle! Have Fun! Be sportive!
Last edited by
Raokiji
on Sun Aug 12, 2012 2:56 am, edited 5 times in total.
IGN:
Raokiji
TL:
100
Captain of the Strawhat Pirates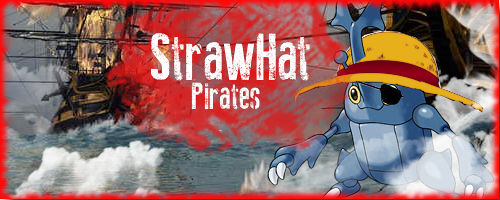 Thnx 2 Terrah!